Dry algae containing 3% of astaxanthin for 2-4 months of daily use.
Dry Haematococcus pluvialis algae containing 3% of astaxanthin
The freshwater Haematococcus pluvialis algae are widely used as the richest source of astaxanthin, one of the strongest antioxidants in the world. The 100% eco-friendly algae cultivation takes place in a closed system under laboratory conditions in a plant in the Czech Republic, EU. The product is not genetically modified, additive-free, pesticide-free, toxin-free.
Ingredients: 100% Haematococcus pluvialis algae
Dry algae net weight: 20 g
The package contains: Haematococcus pluvialis algae package, spoon (1 spoon = 2 mg of astaxanthin), storage container for algae, leaflet
Illustrative photo
Dosage:
Recommended daily dose: 4 – 8 mg of astaxanthin, which equals 2-4 spoons of ALGASTIN - the dry algae containing 3% of astaxanthin. Astaxanthin is lipid-soluble. Always use the daily dose of ALGASTIN e. g. with a few drops of olive oil or with omega-3 fatty acids.
TIP: Stir your daily dose of ALGASTIN into your meal! If you stir it thoroughly, you won't notice any change in the taste.
Nutrition facts per 100 g:
Nutrition facts according to Regulation (EU) No 1169/2011 on the provision of food information to consumers: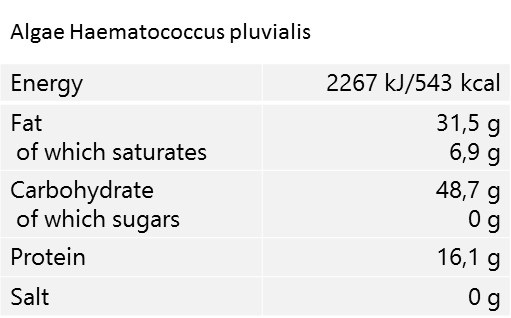 Caution:
Do not exceed the recommended daily dose. The product is not suitable for children under the age of 3 years. Keep out of reach of children. This product does not substitute varied diet. It is not a drug. Discontinue use and consult your doctor if any adverse reactions occur. Pregnant or nursing mothers, children and individuals with a known medical condition or taking medication, consult your doctor before using this product.
Storage:
Store at less than -15°C in a dark and dry place. Avoid direct sunlight, heat and exposure to air.
Expiration date: 18.8.2019
Warning:
Risk of inhalation.
Astaxanthin is a strong colorant, be very cautious when handling the product.
Producer:
Algamo Ltd.
Headquarters: Antala Staška 510/38, Prague 4 – Krč, 140 00
IČ: 28826825
Czech Republic
Distributor:
BONALOKA Ltd.
Headquarters: Antala Staška 510/38, Prague 4 – Krč, 140 00
IČ: 05021189
Czech Republic
Made in the Czech Republic.
{ ohodnotte-nas-produkt }