Asta Protein bar with peanuts and astaxanthin - Food supplement
Asta Protein bar with 12 mg of astaxanthin - Food supplement
Ingredients:
roasted peanuts 37%, agave syrup, rice protein 20%, dried dates, sesame oil, dry alga Haematococcus pluvialis*** 0,53%, salt.
***Algastin 5% Haematococcus pluvialis Dry alga (astaxanthin content 5%). May contain occasional pieces of nut shells and fruit pits.
Net weight: 45 g
Nutritional facts: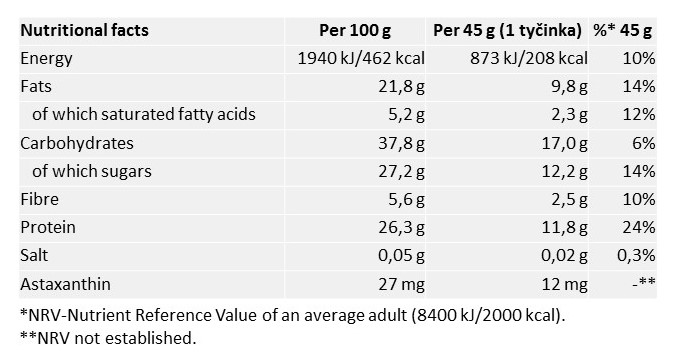 Storage:
Keep in a dry dark cool place. Keep out of reach of children.
Recommended dosage:
1 bar per day. This product does not substitute varied diet.
Produced by:
Cereabar s.r.o.
Na Křtaltě 951, 789 01 Zábřeh
IČ: 04460901
Distribution:
BONALOKA s.r.o.
Headquaters: Antala Staška 510/38, Praha 4 – Krč, 140 00
IČ: 05021189
Made in the Czech Republic.
{ ohodnotte-nas-produkt }